Mobile holographic showcase
Thanks to the mobile holographic showcase (provided with its powerful projector and its carrying case) give life to 3D holograms of human size! Ideal on a stage for a show or any other event, the mobile holographic showcase will add a magical dimension and guarantee a "Wow" effect to your audience!
Use: Virtual presenters, 3D mascots, 3D objects, art
Rental price (showcase + projector + Flightcase)
Dimensions : 278.74 inches (height) x 47.2 inches (width)
Flightcase Dimensions : 82.7 inches (lenght) x 41.7 inches (height) x 19.7 inches (thickness)
Material: Plexiglas base + holographic film
Our team is available for a great service on-site (optional).
Renting (glass + projector + flightcase)
Price
1 day
€900
2 days
€1.700 or €850 per day
3 days
€2.400 or €800 per day
4 days
€3.100 or €775 per day
For a period greater than 4 days, please contact us /

Security Deposit:  €7.000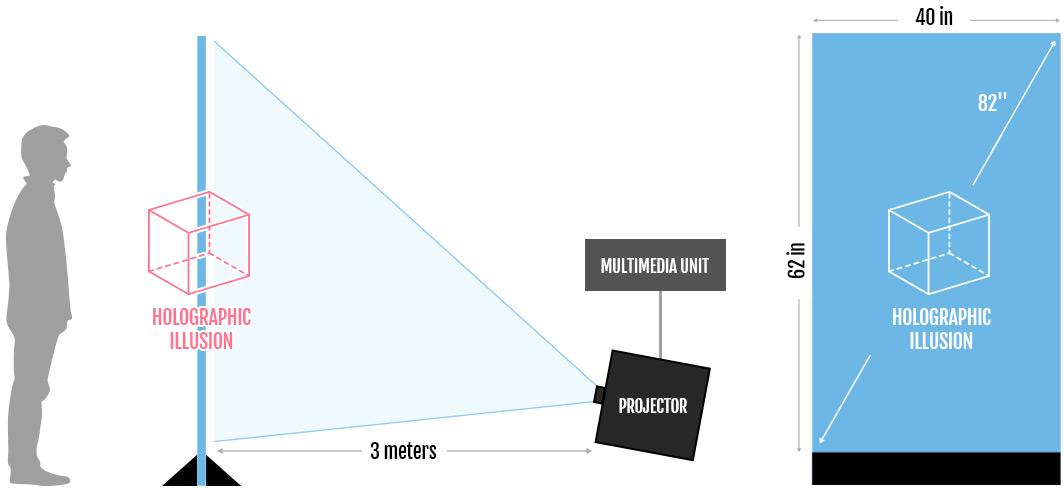 The Showcase gallery
Click to zoom.
The Showcase video gallery