Rental and sale of Dreamoc POP3 holographic display
Specifically designed to attract attention, the POP3 holographic display has a large surface area to broadcast your holographic content. You can combine a real object inside with a holographic animation for a stunning effect! The Dreamoc POP3 is the perfect PLV to spread a message that will mark everyone's mind.
3D holographic display case: Dreamoc POP3
The Dreamoc POP3 showcase is the ideal tool for generating interest. It will sublimate your product in an incredible way and allow the broadcast message to have a real impact on your audience.
Width: 548 mm | Height: 370 mm | Depth: 500 mm
POP3 Weight: 13kg | Freight Weight: 30kg
Rental price:
Dreamoc POP3: 

€2 500

Flightcase: 

€700
Renting (Dreamoc HD3 + Flightcase)
Price
1 day
€375
2 days
€700 or €350 per day
3 days
€975 or €325 per day
4 days
€1.200 or €300 per day

For a period

 

greater than 4

 

days

, please contact us

/

Security deposit: €3.000
Our team is available for a great service on-site (optional). The pyramid is delivered in its protective bag with roller. (less than 12Kg).
The new generation showcase
The Dreamoc POP3 offers many features. Very versatile, it offers for example an integrated audio system that will allow you to broadcast sound or music with your holographic animation.
Its high quality CrystallineTM Optics glass provides maximum comfort and visibility. You can even control the internal lighting and the secure access will allow you to place objects inside without worry.
Advanced customization options are available for any order larger than 50 units.
A real asset for retail environments or commercial spaces, the Dreamoc POP3 will surprise your audience and make it easier to convert viewers into customers.
Its all-purpose size will allow you to place it easily on a shelf or on a piece of furniture. Plug it in and the magic begins!
Telling a story, spreading a message or drawing attention to a promotion has never been so easy with the Dreamoc POP3 holographic showcase!
Specificities of POP3 holographic showcase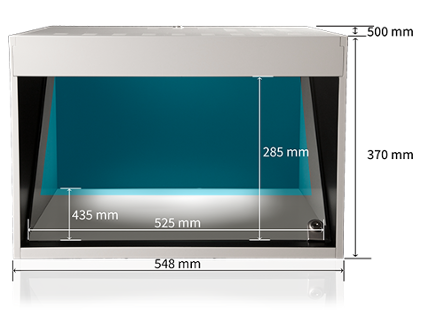 Dimensions
POP3 : W : 548 mm | H : 370 mm | D : 500 mm
Inside : W : 524 mm | H : 285 mm | D : 431 mm
Video
Screen size : 23", 16:9
Resolution : Full HD 1920 X 1080p
Content : WMV, MP4, AVI, MPEG1/2/4, H.264, VC
Informations
Speakers : 2 x 10W
Output : 1 x HDMI , 1 x SD port
SD Card : Min class 4 – max 32Gbyte
The Dreamoc POP3 Holographic pyramid gallery
Click to zoom.
The Dreamoc POP3 Pyramid in videos