Augmented Reality Filters for Instagram & Social Networks AR Lens
Enter the era of innovative Social AR with AR Lenses and AR Filters for Snapchat, Facebook, Messenger or Instagram!
Embody innovation and deliver entertaining and immersive experiences with high impact to your users! Bring unprecedented AR Marketing innovation to your community!
At the dawn of new technologies Marketing on smartphone, it is time for you to propose an innovative Brand Content technology which will produce a lasting impact over time and will retain your customers around your brand and your products.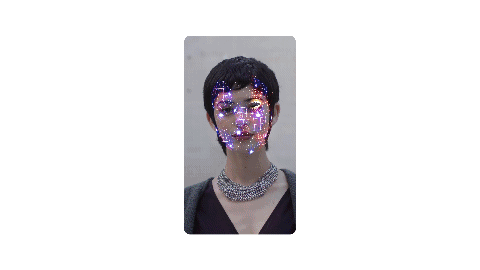 Discover
the main possibilities of the
Instagram Filters
IN augmented reality
to create Buzz for your brand !
Analytics
Your Instagram filter generates activity on your brand account: analytical data allows you to measure the effectiveness of your campaign.
• Impressions
The number of times your effect has been displayed on screen, either in the Instagram camera or in a story shared on Instagram.
• Captures
The number of times someone captured a photo or video that featured your effect in the Facebook camera.
• Shares
The number of times someone took a photo or recorded a video with your effect and shared it in an Instagram story.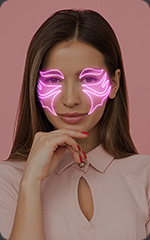 Face Decoration
Build a look with 3D objects
and occluders.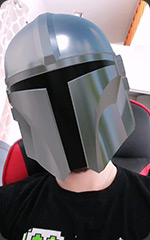 Head Decoration
Build a look with 3D objects
and occluders.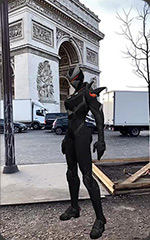 3D Objets
Put a 3D object in the real
world with plane tracking.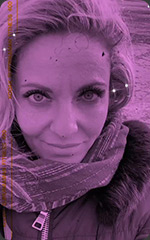 Color Filter
Make a color filter with
a canvas and blocks.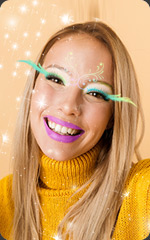 Makeup
Create a makeup with a face tracker and blocks.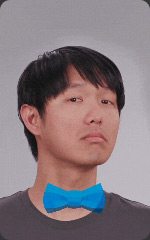 Neck Decoration
Build a look with
3D objects and occluders.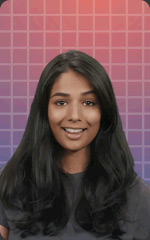 Background
Change the background with segmentation.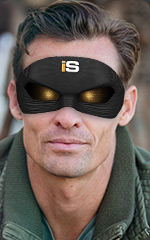 Face Mask
Create a mask with a face tracker and face mesh.
Lenses and AR Filters modify existing reality by adding a digital layer on what you film or take photos. This can be 2D / 3D accessories (clothes, hats, glasses, makeup, masks, wigs) or by transporting the user in a completely virtual environment. Give your community the pleasure of playing and interacting with the world of your brand or products. In addition, your users can share their content generated on social networks in photo or video with their friends.
Thanks to the powerful tools of Augmented Reality, increase the virality of your posts by engaging your fans or followers in a new way!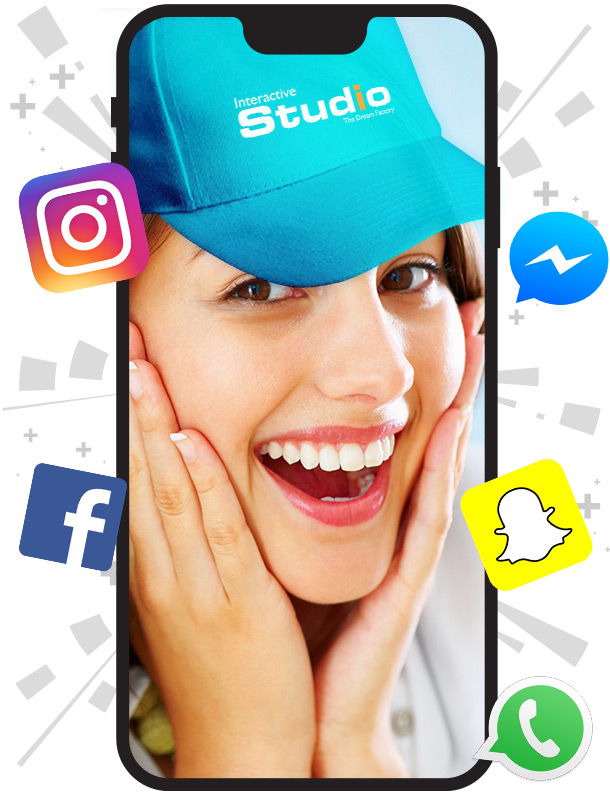 Instagram and Interactive Studio, a collaboration serving brands
Bringing together over a billion monthly active users, including 14 million in France, Instagram has gradually become a real Social Media phenomenon.
This pioneering company in the field of Augmented Reality, has brilliantly succeeded in democratizing the use of the technology of AR Filters, activated daily by 70% of users of the application.
Interactive Studio offers AR filters for Instagram that delight users around the world. Thanks to this powerful tool, we are able to offer ever more innovative interactive content, which contributes to enriching the Brand Marketing Opportunities day after day.