Rental and sale of holographic showcase: Dreamoc XXL3
Create memorable holographic experiences in large spaces such as halls, shopping malls, museums, event lounges … with the Dreamoc XXL3 showcase! With full visibility on all 4 sides, you can dazzle your audience with your holographic content 360 °!
Giant 3D holographic showcase: Dreamoc XXL3
Captivate a large audience with the Dreamoc XXL3 holographic showcase. It is the ideal tool to spread your message in large spaces and have a real impact on your audience.
Width: 78 inches | Height: 78 inches | Depth: 70 inches
Weight : ~396 lbs
| Renting | Price |
| --- | --- |
| 1 week | €9.000 |
Our team is available for a great service on-site (optional). 
Its laminated 7mm Crystalline optics give your viewers a clear, 360 ° view of your holographic animation.
Combining holographic animation and real objects (located inside the pyramid), you'll have a memorable show that your audience will not forget!
The Dreamoc XXL3 allows you to broadcast a strong and impacting message that will sensitize your audience. Its high definition and very bright image will add a magic dimension to your holographic POS.
The Dreamoc XXL3 is ideally located in a shopping center, a train station, a lobby …
The Dreamoc XXL3 adapts to your environment!
The Dreamoc XXL3 showcase is so large that it can hold real objects of 35 inches in diameter and 23.6 inches in height. This gives you the opportunity to create an incredible show that will have a real impact on your viewers.
Its built-in speakers provide you with quality sound and you can also connect an external source if you wish. Ideal for adding synchronized sound effects!
Available in several colors, the Dreamoc XXL3 adapts perfectly to your environment.
Specificities of the holographic showcase XXL3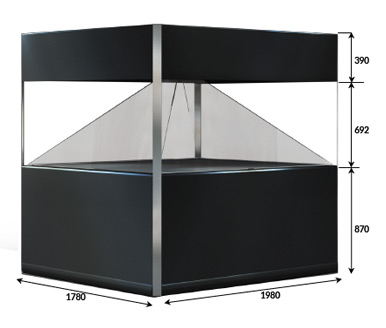 Dimensions
Width: 78 inches
Height: 78 inches
Depth: 70 inches
Holographic Zone
Width: 37 inches
Height: 21 inches
Informations
Speakers : 8 x 10 Wat
Screens : 4 x Full HD LED (1920×1080)
Output : 1 x HDMI , 1 x SD port
SD Card : Min class 4 – max 32Gbyte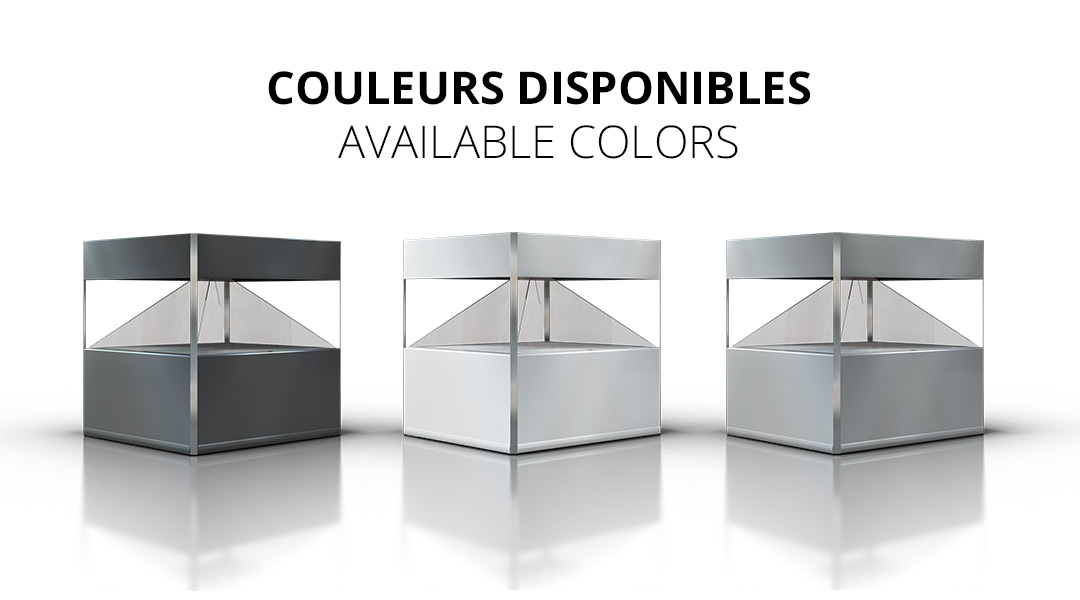 The Dreamoc XXL3 Holographic pyramid gallery
Click to zoom.
.